…a new year, a new chapter, and a new blog. I've had requests to start one of these things for some time but never felt quite ready until now. Seems the Christmas season has given me pause to think – and cause to write. Well, to write something other than my endless journal ramblings and revisions on my novel.
I'll start by saying that future blogs won't be endless in length. I personally have a folder full of email blogs that I intend to get to at some point, and I'm well aware of the busy lives we all lead. This first one, however, may take a minute or two to read.
As some of you already know, the last year has been an adventure for me. A writing adventure, for the most part, and one that I plan to continue. What some of you may not know is why I started writing in the first place, and I feel it's a story worth telling.
I lost a very dear friend, Jenesse, to breast cancer a few years back, and one night, while solving the world's problems over a glass of wine, she informed me – in no uncertain terms – that I was a writer. I scoffed, and she insisted. By the end of that evening, she'd made me promise to write a book someday.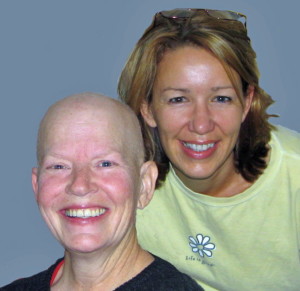 My last gift from her, a few months before her passing, was an instructional book on writing with the following inscription:
As you can see, I've made a copy of that inscription, and it sits beside me when I write.
At the time of her passing, I had just started a new job. It was, by society's standards, an enviable position. Great pay, frequent travel, Marriott points, and a ton of autonomy. Still, I wasn't happy, and my promise to Jenesse gnawed at me like a pup on a rawhide.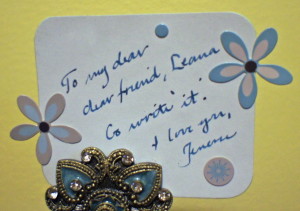 Two years later, I forced a creative writing class into my schedule and booked my work travel around it. By the second class, I was hooked. How in hell she knew I should write before I did is beyond me, but the skies opened up and the angels sang (thank-you SMU), and I now feel most at peace when I hear that glorious tap-tap-tapping sound on my laptop keyboard.
Never one to do things half-assed, I quit the job, packed up my belongings, and moved back to Canada to write and be closer to family. Since that time, I've finished my first manuscript and have switched from shopping at Dillard's to shopping consignment. No looking back. No regrets.
This past year has been fraught with challenges, some of which have recently escalated, but I think I've figured out why. It would seem that I spent the first half of my life bobbing around in a row boat without oars. Wherever the water decided to take me, I went. It wasn't an unpleasant ride. In fact, the scenery was breathtaking, the waters were smooth (for the most part), and the folks that floated alongside me became lifelong friends. But something always seemed to be missing.
When I decided to honor my promise to Jenesse, oars magically appeared in my boat. Now when a fork pops up in the river, I row like mad and head in the direction Ichoose instead of allowing myself to be carried by the current. It's exhilarating, it's empowering, it's life-changing, and it's frigging exhausting. There are more rapids now, more rocks to maneuver around, and plenty of times when I need to stop and do some serious bailing, but I never consider heading for shore.
Nothing about choosing an unconventional path is easy – nothing. In fact, it's damned difficult, but, for the first time in my life, I feel alive.
What happens with my writing is yet to be seen, but I'll keep at it regardless. It's my bliss, and I'm sticking with it. And thanks to all who have requested an autographed copy of my book. I'll do what I can to make that happen for you. I also have ideas for a second, third, and even fourth book swimming along side my row boat. When I start casting out to reel them in, I'll let you know.
Right now, I'm looking at my Christmas tree and thinking of all the wonderful gifts I've received over the past year. Gifts of self-awareness, personal growth, kindness, support, and, most of all – friendship. Lifelong friends who have tolerated my many transformations, my friends in the US who I miss on a daily basis, and the amazing new friends I'm now meeting in Ottawa. I'm truly blessed.
Overall, I hope that this blog inspires people to grab a set of oars. I'll be sharing the trials and tribulations of someone who has jumped ship and taken a chance. I'll let you know what it's like to feel the overwhelming fear of that decision, what goes through my mind when I hit roadblocks, challenges, and tests, and how the absolute joy of rowing has taught my lungs to breathe again.
Jenesse was working on a children's book before she died, but she didn't get a chance to finish it. She said to me at one point, "I always wanted to be a writer, but you know what? I am one. I've been one all along." She learned that it wasn't about how others viewed her – it was about her own personal journey. The journey is the entire point. It's about living in a way that makes your heart sing and passing a song onto someone else.
I want nothing more than for others to find their heartsong. If I can help just one person do that through this little blog, then my time at this keyboard will not have been wasted.
Don't ever be afraid to grab some oars and row against the current. You'll be amazed at the support that manifests itself when you do. Hard work or not, you can rest assured that you'll reach that rocking chair with a smile on your face.
More in the new year, my friends. Yes… so much more.