Leana Delle is an RN with a background in Critical Care and heart transplantation. She earned her BS in Organizational Development from Bethel University in McKenzie, TN and completed her studies in creative writing through Southern Methodist University (SMU) in Dallas, TX, where she is an alumna of their New York Seminar.

Leana is originally from Collingwood, Ontario, Canada, but she now stacks her books in Dallas, Texas.
GO WRITE IT!™
Three little words that my friend, Jenesse Aurandt, wrote on the inside cover of "Bird By Bird," an instructional book on writing by Anne Lamott. It would be my last birthday gift from her. Four months later, in 2007, she'd pass away from breast cancer.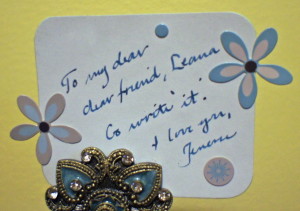 I've copied that inscription onto the card to the right, and I keep it beside me when I write.
A few months prior to receiving that birthday gift, Jenesse told me – in no uncertain terms – that I was a writer. I scoffed, but she insisted and went so far as to make me promise to write a book one day. I made that promise and eventually kept it.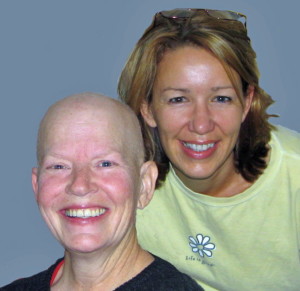 I don't know what made Jenesse see me as a writer, but I do know that I wouldn't have pursued any of this – writing or speaking – had she not.
My very last gift from her? A passionate path – and my gratitude is immeasurable.
I now use GO WRITE IT!™ as a metaphor for life. We all have a story to tell through our own personal journeys. It's my mission to inspire others to find their path and to encourage them to pursue it with all the love and passion that I've been blessed to discover thanks to this amazing woman.
I write words because they bring me joy.
I share them to honor the memory of a very dear friend.