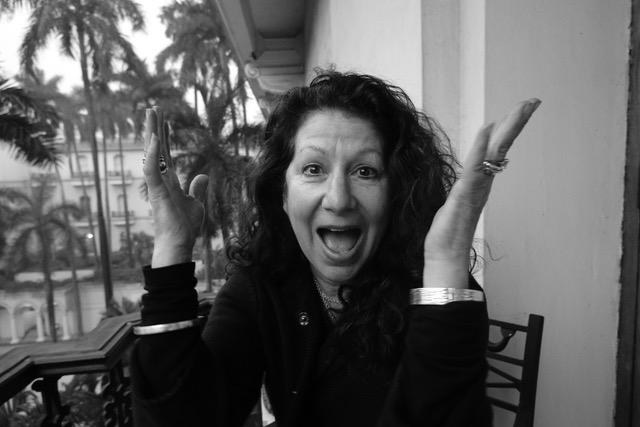 She's Frankie! Well, she's the real artist behind Frankie, Lily Tomlin's lovable character on the popular Netflix series, Grace and Frankie. And what an artist she is!
Nancy Rosen has been making art for as long as she can remember, her journey starting after she followed a childhood friend to art class. Her teacher at the time, Mrs. Forecast (best name ever, by the way), lived down the block, where she had a little store front. Now Nancy has a store front of her own.
"It's always what I've done," she says.
She explored a lot of different creative pursuits: jewelry, macramé, strung beads, silver smithing, leather making. And she started her own business, Nancy Cohn Painted Fabric.
"After I got out of art school, I was this snotty little artist, and I quickly realized that I needed a job to pay rent […], so I ended up working at a factory that painted hand-painted fabric. Then I started my own business. I did that for several years."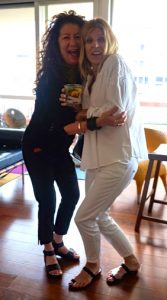 At a young age, people showed interest. In fact, a girlfriend's family began collecting early, owning pieces of her jewelry and some abstract paintings from the 70s. That girlfriend, Robbi Rotolin, would eventually become Executive Producer of Grace and Frankie. When they needed some legit art in Frankie's studio, Robbi added Nancy's work to the list of potential choices. Hers reflected the character the best.
"They rent a lot of my stuff. […] Frankie's studio was modeled after my studio. […] I took a box and filled up 60 lbs. of my crap and sent it to them – a little stool, all these gourds, palettes and paint. I sent them the rags that I'd used to make paintings for them."
How cool it must be to tune in to each episode and see your creative space recreated. And your artwork displayed!
I personally love Nancy's work and have since bought one of her pieces. I hope to acquire more.
"I work from life. Everything I do starts from a real, live person, so I'm constantly inspired. I walk down the street inspired. It's like the web in my life. It's not like something that comes over me. It's what I do every single day, so one thing leads to another and it leads to another."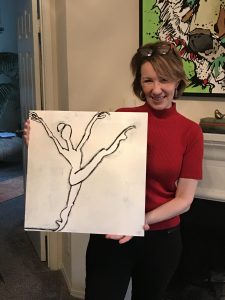 I asked if she's trying to convey anything in particular through her work, or if it's individual to the piece.
"I'm not out to make any big statements about anything. I'm just kind of walking through the world. I tend to draw from women – it's just more interesting to me. It's just kind of my walk through life. […] kind of how I see the world. […] And I don't ever make up anybody. Any piece of art you see that I do is actually from a live person that I end up knowing quite a bit about."
One of the best things she's discovered through the Grace and Frankie gig is not only the opportunity for people to find her work, but also the rewarding role of inspiring others – and people of all age groups!
"I'm in encourager, so I can push people up the hill."
Each interview that I do on my podcast, Girlfriend, We Need To Talk! provides me with something I know I need: a swift kick in the butt to do more. To follow the creative nagging inside my head that yearns to be fully expressed. Nancy's interview was no exception.
"You just have to show up. […] Just go to your studio. If you get a little paralyzed, just walk in the studio and read a book, have lunch. Show up, be in that environment, and once you start, you draw an apple, and then you're going to draw a table. One mark talks to another mark, and then you've got to make another mark to compensate for that mark, but the key is you have to show up. You can't talk about it, think about it, you've got to do it. That's my advice."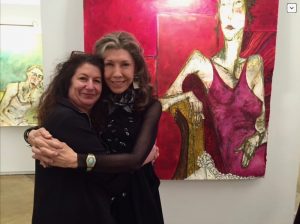 Timely, indeed. I've been showing up to write everyday since. Oh, and I ordered some paint and a few canvases. Never having painted before, it's anyone's guess what I'll produce.
"The point of making art," added Nancy, "is that it feels good. At the end of the day, does it really matter what's on the piece of paper? The journey matters."
Gotcha, Nancy. I'll be sure to remember that. And, thanks!
Missed Nancy's interview? You can listen to it HERE. Also available on iHeart Radio, Apple Podcasts, Google Podcasts, Stitcher Spotify, or wherever your favorite podcasts live.
Learn More/Follow Nancy (you won't be sorry):
Website
Facebook
Instagram