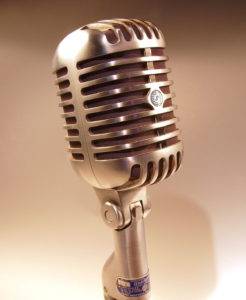 Why a new podcast? A better question would be: Why the hell not? I've had a lifetime of whys, and I'm done. From now on, I see nothing to lose in trying something new. Nothing. Bring on judgment, ridicule, and negative comments. I've reached the official age of "I don't give a damn," as have several of my upcoming guests. I also know, full well, that for every naysayer, there is a member of my tribe hunkered down for the long haul of love and support. YOU make me feel unstoppable, and I thank you.
What's the show about? Women. Outstanding women, to be exact, and I can't wait to get started (technically, we have started, but in a few short weeks, the episodes will start airing). Selfishly, the show will be feeding my addiction – one for stimulating conversation. I can't get enough of rich, let's get to the heart of it, no bullshit interactions, and I'm a firm believer that surrounding ourselves with exceptional people only raises us higher. I want to go higher.
I've missed podcasting since The Matthews and McGuire Show came to the end of its three year run, and we're pumped to bring you an entertaining alternative. When I say "we," I'm referring to myself and the Robin to my Howard, modest sports broadcast celeb, Mark "Friedo" Friedman. Friedo is "The Guy" with a wealth of radio/podcast experience and a keen level of insight.
So, naysayer or tribe, stop by and take a listen. I've got guests in their 20s, 90s, and everywhere in between, ranging from actress to CEO, photographer to professional poker player. We'll bring you laughter, aha moments, and the occasional, "did I just say that?" but I can guarantee you, there won't be any bullshit.
We'll be posting soon!
Follow us here:
Facebook
Instagram
Twitter
LinkedIn
And say hello at: gfweneedtotalk@gmail.com