Have you read Elizabeth Gilbert's book, "Eat, Pray, Love?" I have. And I've watched the movie. As per usual, I enjoyed the book more, but, having lived in San Antonio and Dallas for several years, I found Richard Jenkins's portrayal of Richard From Texas worthwhile. Javier Bardem as Felipe wasn't too hard to handle either, but I digress.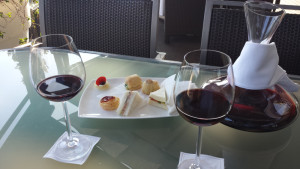 I recently visited Italy, and I can tell you that Rome is everything Elizabeth claims it to be. The people, the history, the culture, and . . . oh my God . . . the food! I decided to take a lesson from Ms. Gilbert's book and feast to my heart's content. Not once did I count calories or bat an eye at switching from denim to elastic waists. I ordered what I wanted, ate every last bite, and washed it all down with a glass or two of grape.
La buona vita.
I can't begin to tell you how liberating it felt to just savor. I've never tasted food like that before in my life, but maybe it was that good because I allowed myself to fully enjoy it.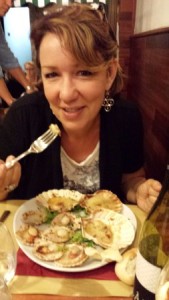 Actually, "savor" is the perfect word to sum up the trip. I'm currently in a long distance relationship with a great guy, and we had an entire two weeks to savor our time together. No, we didn't get to romp on the beaches of Bali, but we enjoyed the magic and romance of stumbling upon an outdoor movie in Rome and watching gondolas caress the waterways of Venice.
(okay, so maybe the accordion player wasn't all that romantic)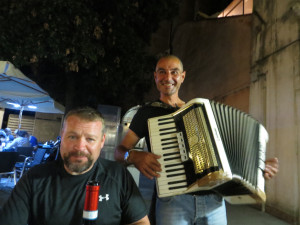 Eating? Plenty of it. Loving? Plenty of that too. Praying? Not in an ashram in India, but here? Yes. Praying that I can now lose this souvenir of a butt that I brought home with me on the plane. "Hind"sight would dictate that I should have exercised more moderation. Foresight says I'll take the same approach of savoring on my next vacation.
Elizabeth said it best: "To travel is worth any cost or sacrifice."