Friendships come and go, but this week I had to back off on one that had incredible sole. No, that wasn't a typo. I'm talking about the best damned pair of sandals I've ever slipped my feet into.
They've protected me from the sweltering sidewalks of Dallas, waltzed me through honky-tonks in Nashville, dashed me out of downpours in Portland, and fought to keep my feet on the ground in Paris. But this week, after walking umpteen miles on the streets of Rome, little choice remained but to send them into retirement.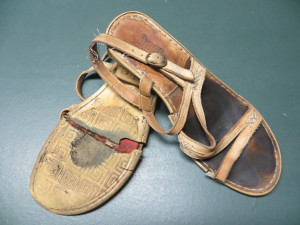 Foul, tattered, and beaten, they're barely holding together now, but they can still become an extension of my own skin and trudge for miles without causing an ache or a pain. Oh, and the looks I got as they carried me through the shoe stores of Venice. Priceless!
I did eventually find a beautiful new pair, which spurred the saleswoman to hold my old friends over the trash and plead, "Per favore, Signora!"
"I can't," I replied.
She conceded saying, "These were your love." She then shrugged her shoulders and gently wrapped them in tissue paper for me to take home.
Yes – come to think of it – they were my love (it's a girl thing), so full retirement might be the wrong approach entirely, unless I'm willing to have them bronzed. I can still walk the dog in them, right? Or put them on to traipse down a beach?
Semi-retirement . . . that's where they'll go. Someplace peaceful in the back of my closet where no one can make fun of them. Someplace where my journey of a billion steps (give or take a few) can pause before being committed only to memory.
You've served me well, Tsongas. Thanks for the ride.