I don't have cable; I have no use for it. My news comes through social media, or it doesn't come at all. Yesterday Facebook informed me of this: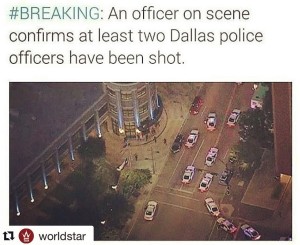 The death toll rose to five officers not long after I read this post, and the announcement of seven other officers and two civilians being injured soon followed – as did the location of the shootings: just a few blocks from my home. According to news sources, these attacks are now, "The worst shootings targeting police officers in our history."
I moved to the U.S. from Canada in 1997 as an RN. I've now spent nineteen years in America – eight of those as an American citizen – and during that time I've cared for, grieved over, laughed and cried with and respected every form of American I've come in contact with. That's how I was raised, and I'm grateful for the example set.
You see, color isn't a major issue where I come from – neither are guns. As a Canadian, it took me several years to really see the reality of prejudice and distrust that exists in America. I simply couldn't grasp the concept of people hating each other for any reason, let alone race. I still can't grasp why it continues, but I have certainly witnessed and personally experienced prejudice enough times now to know that it's alive and thriving. Sadly, it appears to be growing stronger.
Now that violence and death have moved into my neighborhood, I'm more acutely experiencing the anger, disappointment, heartbreak and fear that accompany such senseless acts. What I don't feel is hatred. I refuse to. Nothing will drive me to that.
Maybe I'm still suffering from naivety, but what I'm seeing is a people issue, not one that's specifically black or white. "We the people" need to embrace our differences and stop judging entire races or subcultures on the small percentage of radical individuals, in every group, who want to grease the hate machine. We collectively can't allow these perpetrators to succeed in destroying the very thing that I think we all desire: genuine community.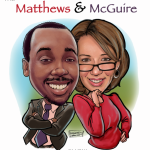 For a year now, I've been working on "The Matthews & McGuire Show," a podcast dedicated to diversity and personal growth that I cohost with my
good friend, Mike C. Matthews. On it, we celebrate our differences and the differences of others, trying to help bridge the racial, generational, gender and cultural gaps that threaten our society as a whole. I'm constantly learning from my cohost, and I believe he from me, which speaks volumes on how much richer our lives can become with inclusivity.
I challenge each one of you to take some form of action, large or small, to amplify the voice of acceptance and encourage love where you are.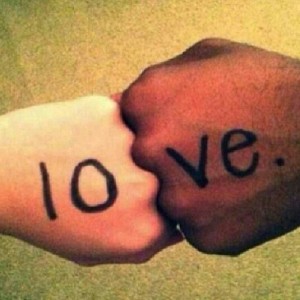 Hate and violence cannot, and will not, solve the issues that we've allowed to manifest in this country. The only answer is love and acceptance, something our spiritual leaders, including Christ, I might add, have been telling us for centuries.
I think we all agree that things have gotten out of control. Now let's try and agree on the most loving way to move forward.
If you're reading this, I love you. If you're white, black or brown, I love you. If you're green, purple or teal, I love you. If you're gay, lesbian, straight or transgender, I love you. If your blood is red, I love you. If you choose not to love me back, for whatever reason, I'll love you still.
My thoughts and prayers go out to all families of, friends of, and victims of violent crime tonight. May you find peace and the support of every variety of neighbor.