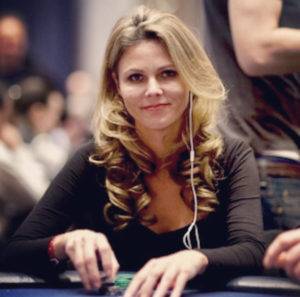 Clonie Gowen. Professional poker player, and my first guest on Girlfriend, We Need To Talk!
How fitting that my premiere interview be in person. Many of my conversations with outstanding women happen over the phone, but this was the best way to start out. And this woman's story! From taking a bus to Vegas at 17 to teaching poker in Allen, TX – not to mention the $1.6 million in tournament wins that happened in between.
What was my biggest takeaway from 30 minutes with Clonie? Her parallels between poker and the game of life:
"If you're just sitting down and you're miserable all the time, you're going to always see the miserable cards that you get. You're never going to be able to see the wins."
Amen sister. So true. She spoke of attitude, praised gratitude, and exuded fortitude.
Thank you, Clonie Gowen. This interview was a royal flush, and I know that those who listen will be all in.
You can check out the interview on iTunes or by clicking HERE. And if you want to learn to play from the master herself, this is the LINK for you.
Want to follow the show on social media? Try one or all of these:
Facebook
Twitter
Instagram