An update on the decluttering exercise: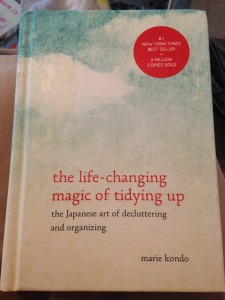 For those of you who have been following my little (not so little) adventure in ridding myself of excess, you'll know that I started this project in the month of May. Yes, May. Unless I'm mistaken, however, Marie Kondo, author of the advice dolling book, "The Life-Changing Magic of Tidying Up," suggests completing this project within a six month timeframe (I'm sure I read that), so I would appear to be right on target. Not that I'm actually finished, but I'm close.
I've reported so far on cleaning out my clothes closet, disposing of books and ditching excess paper, but the project has gone far beyond that. Since my last report I have gone through CDs, DVDs, dishes, towels, linens, kitchen utensils, buttons, craft and office supplies, and even the dreaded junk drawer. I haven't kept a complete tally on what's gone out the door, but I know it's over 20 bags of clothes and household items to Goodwill along with over 10 bags of garbage to the dumpster. It's shocking to take stock to this extent and extremely rewarding.
What I'm most thrilled about is that the "life-changing" part holds true. At least, it does for me. Here are a few examples of how:
My clothes closet looks exactly like it did six months ago. No lie. And I still love it.
I've completely changed the way I shop. I've bought clothes since starting this project but nothing for my home. I have no interest.
When I do buy clothes, I make sure that they genuinely bring me joy. 
Nothing new has gone into my junk drawer in months. Seriously. It looks like this —>
I'm wearing and using things that I'd stored away for God knows what reason. I may have mentioned this before, but I found – after going through my clothes – that the items that brought me the most joy were the ones that I'd been wearing the least. Well, I wear them now, and I'm finding my truest and most joyous sense of style. So fun!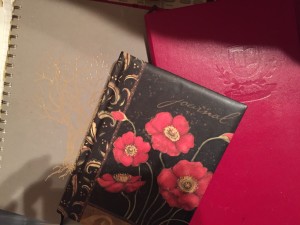 Why did I entitle this blog "Should I, or Shouldn't I?" I'm torn about one horrendous pile of nonsense: journals. I've dug out approximately 30 of them, and they cover approximately the last ten years of my life. Although I highly doubt I'll keep any, should I read them before they're disposed of? Do I want to delve into the blithering nonsense of my younger self? Don't we primarily write in journals, because we're working through one issue or another? Part of me just wants to throw them in the fire and be done with it.
What would you do? Have you collected journals over the years? Have you read them at various stages and been glad you did, or did they just stir up a lot of crap that didn't need revisiting? I'd love to hear your thoughts.
In the meantime, this picture shows all that's left to be sorted. It doesn't look like much, but in this mess are piles and files of sentimentality, including: family correspondence, love letters, greeting cards, newspaper clippings, postcards, pictures, negatives, etc., etc. < sigh > I may need to journal after this.
Stay tuned, my friends . . .